Pike County Times


Welcome to Pike County Times.com
This online news website is owned and operated by Becky Watts. If you enjoy reading Pike County Times, consider buying an advertisement for your business or sending a donation to support the only free online newspaper in Pike County. Donations can be sent to: The Pike County Times, PO Box 843, Zebulon, Georgia 30295. Click here to donate through PayPal. Thanks for supporting Pike County's only free online newspaper!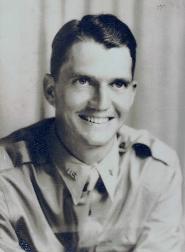 Photo courtesy of Fold3.com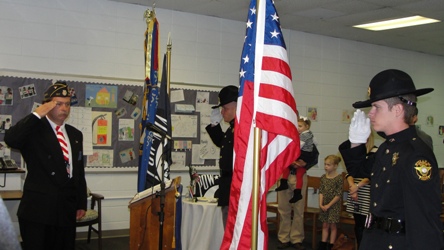 More photos below this article.
MIA Veteran Honored at Pike County Memorial Annex
By Editor Becky Watts
On December 6, 2014, the Pike County American Legion Post 197 hosted an Induction Ceremony of First Lieutenant Robert Eugene Oxford into the Pike County Memorial Annex. 1LT Oxford made the ultimate sacrifice during World War II. 1LT Oxford's name is currently listed on the Pike County Veteran's Memorial on the Court House Square. To this day, he is listed as "Missing in Action" (MIA).
The Oxford Family and friends of the family were guests of honor as the community shared in honoring 1LT Oxford and the Oxford Family at this ceremony. Pike Post 197 Historian Bryan Richardson worked with the family of 1LT Eugene Oxford to honor their family member who gave the ultimate sacrifice in his service to our country. The Pike County Sheriff's Office Honor Guard presented the colors at this ceremony.
Much preparation was made in advance to honor 1LT Oxford and his family. Pike Post 197 performed a special flag ceremony on the Courthouse Square on Veterans Day for this special occasion, the following shows the proclamation for First Lieutenant Robert Eugene Oxford Day that was signed by the Pike County Commission on Wednesday, November 12, 2014.
This proclamation was read aloud at this ceremony by County Commission Chairman Briar Johnson, who has known the Oxford Family for 40 years.
WHEREAS: The citizens of Pike County, Georgia and the United States of America live in freedom because of the contributions, selfless service, and ultimate sacrifices of World War II service members.
WHEREAS: Pike County specifically recognizes, Army Air Force service member First Lieutenant Robert Eugene Oxford from Concord, Georgia.
WHEREAS: Lieutenant Oxford served with honor and distinction assigned to the 425th Bomb Squadron, 308th Bomb Group, 14th Air Force Command supporting the China-Burma-India theater of operations during World War II.
WHEREAS: On 25 January 1944, the aircraft that Lieutenant Oxford was assigned as a Bombardier, crashed, killing all eight crew members. Months later, Lieutenant Oxford and the rest of the crew were declared administratively dead.
WHEREAS: The aircraft "Hot as Hell" was discovered on 7 December 2006 near Damroh, India; however, no crew remains were discovered. To this day, Lieutenant Oxford remains "Missing in Action" from World War II.
WHEREAS: We, the citizens of Pike County, remember with somber and grateful hearts, the sacrifice that Lieutenant Oxford gave the United States of America, the state of Georgia, and Pike County. We wish that his remains will someday return to his final resting place in Magnolia Cemetery, Concord, Georgia.
NOW THEREFORE, BE IT RESOLVED by the Board of Commissioners of Pike County that December 6, 2014 be proclaimed as FIRST LIEUTENANT ROBERT EUGENE OXFORD DAY in Pike County, Georgia and encourage all citizens to observe and appreciate the sacrifice and contribution of one of Pike County's own.
BE IT FURTHER RESOLVED that a copy of this Proclamation is to be spread upon the minutes of proceedings of this Board to memorialize this occasion and express its sincere appreciation.
The story of Robert Eugene Oxford's life began in Concord, Georgia on October 23, 1919. He was the youngest of six children born to Charles and Bessie Oxford. He attended school in Concord, graduated from Concord High School in 1938, and worked on his parent's farm and at the Concord Post Office after high school.
He enlisted as a private in the Army Air Corps in 1942 and graduated from the United States Army Air Corps Bombardier School as a Second Lieutenant at Midland Army Airfield, Midland, Texas the same year. He was assigned to the 425th Bomb Squadron, 308th Bomb Group, 14th Air Force Command supporting the China-Burma-India theater of operations during World War II as the Bombardier of an eight man crew for a B-24J Liberator bomber aircraft nicknamed "Hot as Hell," tail number 42-73308.
On January 25, 1944, Hot as Hell departed from Kunming, China for Chabua, India. This flight path was the standard "Hump" route over the eastern end of the Himalayan Mountains and was considered dangerous, but almost daily flights were essential to the Allied effort to keep China in the fight against Japan. Combat cargo crews flew regardless of weather because bombing missions against the enemy required several supply ferries for each mission.
First Lieutenant William A. Swanson was piloting Hot as Hell on a routine flight to ferry supplies for the Army on this particular day, and the weather was very foggy on the west side of the Himalayas. A five aircraft formation included Hot as Hell and was last seen passing into the Chuba Valley. It never arrived at its destination. Two other aircraft also went missing from this formation and later that day, another plane had mechanical problems but the crew all managed to parachute to safety.
Several months after this final flight, the eight member crew was declared administratively dead. Among the dead was Bombardier First Lieutenant Oxford, Service Number 0-663308. Lieutenant Oxford was posthumously awarded the Distinguished Flying Cross, the military's highest award for aviation in combat.
On December 7, 2006, Clayton Kuhles of Prescott, Arizona located the Hot as Hell crash site and wreckage. This crash site covered approximately 10 acres and is located near Damroh, Arunachal Pradesh State, India. Read more about this in the article entitled, "Family of Missing Airman Asks for Public's Help to Bring Him Home" below. Crew remains have yet to be located and returned home to their families.
Lieutenant Eugene Oxford is memorialized at the family grave site in Concord at the Magnolia Cemetery, the Manila American Cemetery in the Philippines, on the Veteran's Memorial in Zebulon on the Courthouse Square, and now, at the Pike County Memorial Annex in Zebulon, Georgia. There is an engraving in a memorial at the Manila American Cemetery that reads, "Here are recorded the names of Americans who gave their lives in the service of their country and who sleep in unknown graves."
(Many thanks to Pike Post 197 Historian Bryan Richardson and the Oxford family for this historical information.)
Pike Post 197 performed the POW/MIA Remembrance Ceremony in honor First Lieutenant Eugene Oxford which includes a table set for one and an empty chair draped with a POW/MIA flag. This is a reminder that Lieutenant Oxford and other POW/MIA are unable to be with their families. Pike Post 197 will ensure that he is never forgotten and hope that some day his remains will be returned to his family for burial in the Magnolia Cemetery in Concord. Historian Richardson also expressed his hope for closure for the Oxford family who has waited for seventy years for the return of their loved one.
Pike Post 197 expressed thanks to Iris City Art and Framing for the beautiful triangular shadow box that holds the life story of Pike County's only known MIA service member as well as the flag that was flown at the Veteran's Memorial on Veteran's Day in honor of Lieutenant Eugene Oxford. Family members who attended this ceremony include: Bill and Merrill Roan, Cayleigh-Jaye and Alivia Roan, Carolyn and Tommy Oxford, and Laura, Brandon, Natalee and Ashlee Rogers.
This is the second annual ceremony to honor those who gave the ultimate sacrifice while serving our community. The Pike County Board of Education has provided a portion of the old Middle/High School to be used as the Pike County Memorial Annex. Those who are eligible for this honor include members of the military, members of the Sheriff's Office and city police departments, and our volunteer fire department.
"Post 197 would like to continue honoring those from Pike County who gave the ultimate sacrifice and start an annual tradition with the goal of honoring every name that's on the Pike County Veteran's Memorial and every first responder of Pike County who has died in the line of duty," said Pike Post 197 Historian Bryan Richardson.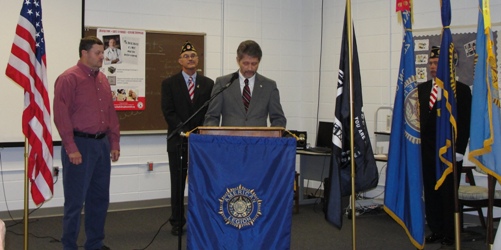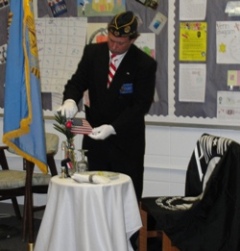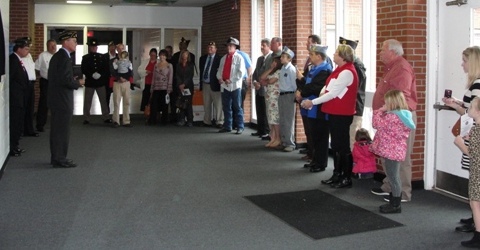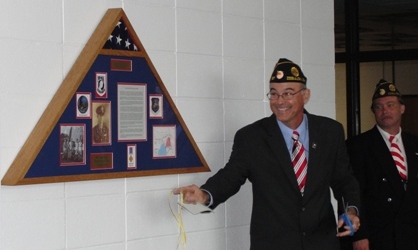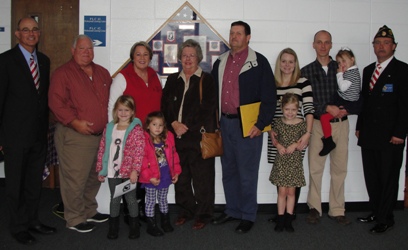 Family of Missing Airmen Still Unable to Bring Their Family Members Home
ZEBULON - In an effort to follow up on the story of Hot as Hell, I began doing some research on whether Clayton Kuhles of www.MIArecoveries.org had been allowed to go back to the crash site in India. There are numerous articles and Facebook posts that bring together numerous family members and show just how complicated this mission to bring home missing service members has become.
According to a Reuters article from 2008, discussions were ongoing between Indian defense officials and the U.S. Joint Prisoners of War/Missing in Action (POW/MIA) Accounting Command (JPAC) to locate and bring home 430 Americans in 90 planes that were lost in India during a battle to resupply China's army in a war to hold back a Japanese invasion during World War II. According to a Washington Post article from 2012, India agreed to allow American recovery of some who are missing in action (MIA). There is even a Truman Project article from 2013 that talks about China and the recovery efforts. According to an article out of Gardner, Massachusetts, at least one of the missing planes contains the remains of MIA service members.
Since the time of the initial approval however, efforts to bring home these MIA service members have come to a standstill. Clayton Kuhles has even asked for permission to bring home MIA crew members, but his offer has not been accepted at this time.
Gary Zaetz, nephew of B-24 "Hot as Hell" navigator 1st Lt. Irwin Zaetz, missing in action in Arunachal Pradesh since January 25, 1944 Founder and Chairman of Families and Supporters of America's Arunachal Missing in Action (https://www.facebook.com/arunachalmissinginaction), spoke to Pike County Times by email and gave me the following statements about the quest to bring home MIA family members:
"I become more and more convinced, with each passing day that the Government of India victimizes the families of America's Arunachal Missing in Action by failing to respect their rights to bury their loved ones, that not only must the Government of India immediately allow large-scale recoveries in Arunachal but the Government of India also must APOLOGIZE to these families for these long years of abuse. An apology would be the honorable thing for the Government of India to make."
"Most of the times we have asked the Indian Government why they have not permitted recoveries in Arunachal since the end of 2009, when recovery operations at the Hot as Hell crash site in Arunachal were suddenly halted, our inquiries are totally ignored - we don't even get an acknowledgement of our emails. On the few times they have bothered to reply, they have given all sorts of lame reasons, none of which hold water even under a cursory examination: poor law and order situation in Arunachal, poor infrastructure in the region, need to get permissions from four national ministries, need to get permissions from the government of Arunachal, the list just goes on. The real reason is the Government of India just doesn't consider it important enough to give even a few minutes of attention to - the key bureaucrats are focused on trade and arms agreements with the US, and the Obama Administration doesn't consider this to be any more a priority than the Indians do, so it doesn't press them on it."
"1st Lt. Robert Eugene Oxford, of Concord, Georgia, is one of America's 400 Arunachal Missing in Action, whose mortal remains the Indian Government refuses to repatriate to their families and homes in the United States. Shame on the Government of India for the disrespect it shows to their sacrifices and their families!"
I also contacted Clayton Kuhles www.MIArecoveries.org who discovered the crash site and was a part of my 2007 article below entitled "Family of Missing Airman Asks for Public's Help to Bring Him Home" and asked for follow up on this continuing story. He told me the following: "I only wish I could do more for the family of Lt. Oxford and the families of the other airmen who were aboard Hot as Hell on that fateful day. Towards that end, I have submitted an unsolicited contract proposal to JPAC, whereby I would return to Hot as Hell with an archaeologist and a forensic anthropologist and recover the crewmembers so they can be brought home. JPAC has been banned by the Indian government from sending their US military recovery teams into Arunachal Pradesh, so I've offered to go there and do the recovery for them with my NGO team. I am hopeful that JPAC will accept my offer of assistance."
As a reporter and the wife of a retired soldier, I hope and pray that these families will be given the closure that they seek by being allowed to bring their loved ones home.
Family of Missing Airman Asks for Public's Help to Bring Him Home
By Editor Becky Watts
CONCORD - It happened on a routine ferrying mission that departed from Kunming, China. The B-24J Liberator named "Hot as Hell" flew in the China, India Burma Theatre during World War II. On January 25, 1944, this aircraft from the 14th Air Force, 308th Bomb Group, 425th Bomb Squadron never arrived at its destination in Chabua, India.
The eight crewmen aboard "Hot as Hell" were officially listed as Missing in Action (MIA) and a report dated November 20, 1944, advised that the plane was "still listed as MIA". A Bombardier named 1st Lt. Robert E. Oxford--affectionately known as Eugene--was one of the missing. Back home, his family worried about him. They wondered exactly what had happened and when he was coming home.
Eugene was the youngest of five children born to Charlie and Bessie Oxford from Concord, Georgia. Fred was born in 1912, Paul in 1914, Clay in 1915, Martha Kate in 1917, and Eugene in 1919. Eugene and his sister and brothers played and went to school in Pike County. Eugene was engaged to be married to a Pike County girl named Susan Brown.
Eugene's brothers served in the Armed Forces so it was only natural that Eugene would do the same after he graduated from High School. He graduated from Midland Army Flying School in Texas on August 13, 1942 and joined the war effort after that.
The China-Burma-India Theatre was a struggle between Chinese soldiers and the Japanese force that was attempting to overcome their country. The US Air Corp which would eventually become the US Air Force, the British Royal Air Force, and the Royal Canadian Air Force joined in the struggle against Japan. Food, ammunition and supplies were ferried from one area to another in this region.
Plane crashes were a common occurrence resulting from hostile fire, bad weather, and both navigational and mechanical error. Hundreds of planes were lost with multiple crew members on each plane. According to the MIA Recoveries website, "The US Department of Defense stated in 2004 that more than 500 US Aircraft and 1,200 crew members were still missing in the China-Burma-India Theatre from WWII, with nearly 416 Americans remaining missing in India alone."
Eugene's older brother, Fred, told me that survivors of plane crashes did walk out of the jungle months later. This is why there was such a lapse of time between crew of "Hot as Hell" being declared MIA and the crew members on the flight finally being declared dead after 2 years. However, their bodies were not recovered and brought home to their families.
Mary-Kate Roan writes about a letter that was returned to her grandmother after Eugene's death. "I hope you get home before you get this letter," she wrote. "It would be the best thing we could have happen to us now to hear that you were out of that jungle and on your way home. We certainly haven't given up hope and won't. We have read so much about boys that have been in those jungles for months and still find their way out. It really gives us encouragement," she wrote. 63 years would pass before Eugene's family received word about their loved one.
On September 3, 2007, a message was posted on a Genealogy website asking if anyone was familiar with the family of 1st Lt. Robert E. Oxford of Pike County, Georgia. The post was from a relative of one of the other crew members of "Hot as Hell". It went on to say that the wreckage of the plane had been discovered in a remote area in northeastern India and that their family was trying to contact relatives of missing crewmen in order to persuade the Department of Defense to send a recovery team to the site of the wreckage.
It just so happens that Fred's nephew's family live in Thomaston and Merrill Roan--Mary Kate's mom--had begun work on the family's genealogy. Merrill found the message on Genealogy.com and corresponded with a member from one of the other families. This correspondence has spread to include family members from several of the crew members of the lost plane in an effort to bring their family members home.
Sure enough, the B-24J nicknamed "Hot as Hell" had been found. Arizona adventurer Clayton Kuhles had filed an archeological site report form with the Joint Prisoner of War/Missing in Action (POW/MIA) Accounting Command on December 7, 2006 showing that the plane had been located near Damroh, India. Less than one week after the posting of a message searching for the family of 1st Lt. Robert E. Oxford of Pike County, Georgia, Eugene's family was learning what had happened to him during his tour of duty in the military after 63 years of waiting and wondering.
Clayton Kuhles has embarked upon MIA search expeditions for the past several years. One story from a 2002 expedition tells how difficult it was on an earlier trip. It tells how Kuhles and his guides ate only beetles for food when supplies ran out because the villagers refused to sell food to his group. It was said that Clayton lost 25 to 35 pounds on that trip. Since then, he has made contacts that have made the return trips considerably easier.
According to his MIA Recoveries website, a typical expedition lasting one month costs about $10,000 with some trips lasting as long as 2 months. Clayton has been able to reach and document about 2 to 3 MIA aircrafts on an average trip to India. Clayton's guide had found the wreckage for "Hot as Hell" a couple of years prior to the trip in 2006. A parachute and oxygen bottle were found at the site as well as bones that are likely human remains. The markings on the plane identify it as "Hot as Hell". Pictures can be seen on the MIA Recoveries website through the link below. Through Clayton's work to document the wreckage of WWII planes, families are joining in a growing effort to bring home their loved ones who have been missing in action since the war.
"Eugene's family always hoped that Eugene would be found," Merrill said. Now Eugene's family asks that their loved one be brought home to rest in Concord at the cemetary where his marker stands. "The family is asking all veterans to contact their representatives to help us bring our family member home."
Discovery Links Three Generations
By Guest Columnist Mary-Kate Roan
THOMASTON - A picture is worth a thousand words, or so the saying goes. Looking over the black and white photograph of a man that so many would never know, it's hard to imagine what he would have been like.
I know what he looks like without colors, but I cannot help but imagine just what color his dark hair really was. Did it have any red tints to it like my grandmother's? What did he sound like when he laughed? Just what color were his eyes? What kind of music did he listen to? Was he a good dancer, or was he the reserved kind of man – a wallflower even? Was he the kind of man that would always put his best foot forward? Or was he the loner of the group, always brooding and contemplating? Was he a romantic? What was his favorite sport?
The Defense Prisoner of War/Missing Personnel Office states that over 74,000 people were not recovered after World War II. Among them is my great-uncle. Not much is known about Robert Eugene Oxford in my family other than the fact that he signed up for duty in World War II only to be declared missing in action along with the crew of a B-24 Liberator named "Hot As Hell." His body, along with the plane and crew, were never found. I know more about the plane that carried him than the man himself.
The National Archives and Records Administration speaks highly of the B-24 Liberator, stating that:
"This Consolidated-built heavy bomber reached higher production than any other U. S. World War II combat aircraft. A total of 18,188 of these versatile four-engine bombers was built for the U. S. Air Corps, Navy, and Allies. The B-24 went through many modifications which added armor, power-operated gun turrets, self-sealing gasoline tanks, and armament to the original model. The B-24 was used not only as a bomber but as a tanker and transport, and although it flew in all theaters of war, it was used most in the Mediterranean and Pacific, where longer range gave it an edge over the B-17. This range made it particularly useful in the Pacific for search missions for downed airmen."
"Chennault's Forgotten Warriors, The Saga of the 308th Bomb Group in China" by Carroll V. Glines states that:
"While only two planes were lost on combat missions in January 1944, there were other heavy non-combat losses. Five planes were lost on January 25 on a routine ferry flight to Chabua from Kunming and Chengkung. The weather, reported as sufficiently high at Chabua at takeoff time for the return flight, closed in upon arrival in the Chengkung area. One plane crashed there killing all aboard except two men, Sgts. Donald L. McQueen and George M Keefauver. Two planes crashed after the crews bailed out and two others were reported missing. One of the missing planes, piloted by Major Harry H Musinski, had twelve men aboard, including Lt. Charles H Mortimer, the 425th's flight surgeon. The other missing plane had eight men aboard."
On January 25, 1944, a B-24 named "Hot As Hell" and its 8 crew members took off from Kunming, China for a routine flight to Chabua, India. The crew was listed as:
(Pilot) 1st Lt. William A. Swanson, 0-728935; (Co-Pilot) F/O Sheldon L. Chambers, T-291; (Navigator) 1st Lt. Irwin Zaetz, 0-791661; (Bombardier) 1st Lt. Robert E. Oxford, 0-663308; (Engineer) S/Sgt. Charles D. Ginn, 15084114; (Radio Operator) S/Sgt. Harry B. Queen, 11021096; (Gunner) Sgt. James A. Hinson, 14188472; and (Gunner) Sgt. Alfred H. Gerrans, Jr., 34315848. The plane never made it to its destination in India. The crew, including Eugene, was declared dead on November 20, 1944. The wreckage was never found. No trace of the plane or crew was ever discovered.
Eugene was survived by his parents, Mr. and Mrs. Charles Oxford; siblings, Paul, Clay, Fred and Martha; and a fiancé named Susan Brown. His brothers also served in the war. He graduated from Midland Army Flying School in Midland, Texas on August 13, 1942.
Little else is known about Eugene's service in my family. From letters that were gathered after he was switched from "missing in action" to "killed in action" I can only gather a few skeletal remains of the man that was Robert Eugene Oxford.
In a letter from Matt Quackenbush written after news of Eugene's missing in action status, a friend of Eugene in the war, the true nature of Gene was discovered; he was known as "Ox" and had "not a fault."
"He is a very good and conscientious bombardier, always did his job as it should be done," Quackenbush wrote. "Also he is very popular with every man in the squadron; lots of times he sang old hill billie songs for us."
"He'd spend most of the time writing letters and thinking of home," he adds.
It's a story that no one really likes to talk about in my family - mainly because Eugene's family is gone for the most part, save his 94-year-old brother Fred, who despite his age can still drive in heavy traffic and lives in Atlanta. The story has often haunted me. I know that all those years ago when my grandmother died, she wanted to find Eugene, or at least know what happened to him.
And on September 8, the phone call that three generations of my family have been waiting for finally came. The plane has been found. In a remote ravine near the village of Damroh in India, the remains of the plane have been found. Pictures of the crumbled steely flesh of what was once the magnificent iron bird flying in the sky now can be seen on the Internet, a ghostly image with tree branches beginning to blend with the man-made architecture.
Clayton Kuhles, of MIARecoveries.org discovered the plane. MIA Recoveries has taken on the task of providing information on "ongoing expeditions into Burma, India, Bangladesh and China to locate and document missing-in-action (MIA) Allied aircraft lost in that area of Asia during World War II."
"During World War II," the website explains. "The Allies lost hundreds of aircraft in the China-Burma-India (CBI) theater of operations. Although hostile fire from Japanese forces accounted for many Allied aircraft losses in the CBI theater, the majority of Allied crashes were caused by inhospitable weather, mechanical failure, or navigational error."
"We attempt to account for and recover those long-lost Allied military personnel and to bring some level of closure to their surviving relatives and friends," adds the MIA Recoveries website.
Kuhles remains optimistic about retrieving remains and other precious artifacts from the crashsite.
"The locals in these areas would leave any human remains as-is and would not remove them," said Kuhles. "I have every reason to believe all the crew member remains can still be found at the crash site if it is thoroughly and professionally excavated."
Kuhles also has a hypothesis about why the plane crashed in the first place – low fuel.
"There are no high mountains or other physical barriers in the area to cause the crash," he said. "Crashes over high mountains are often caused by icing." Men died there. In a mixture of chaos and bravery, men lost their lives there. I should hope it was an immediate death for them all - as I'm no expert, that would be my general impression. I imagine fear, and I certainly can imagine pain beyond my comprehension going through these fine examples of men in their final moments.
But I hope in many ways that my imagination is wrong.
A parachute, oxygen tank and "numerous human remains" were found at the site of the crash, and even more hopeful for the possibility of identification is the fact that there doesn't appear to be any signs of fires that damaged the area. However, the battle has only just begun. Now, my family has to somehow convince the government to investigate this crashing.
One thing is certain for the plane "Hot As Hell" and its crew: It's time for these heroes to come home. After over half of a century in a foreign country, away from their families, they can finally begin their journey home. No longer are their rotting remains alone amongst the wilderness. At least now we know a little piece of the puzzle - that they did indeed crash and didn't simply vanish into thin air.
"I hope you get home before you get this letter," said my grandmother in a returned letter to Eugene. "It would be the best thing we could have happen to us now to hear that you were out of that jungle and on your way home. We certainly haven't given up hope and won't. We have read so much about boys that have been in those jungles for months and still find their way out. It really gives us encouragement."
But the battle's just begun. There still needs to be a formal investigation into why the plane crashed; the bodies need to be identified (probably through DNA from the bones); and the crew needs to finally come home to rest in peace.