Welcome to Pike County Times.com
This online news website is owned and operated by Becky Watts. If you enjoy reading Pike County Times, consider buying an advertisement for your business or sending a donation to support the only free online newspaper in Pike County. Donations can be sent to: The Pike County Times, PO Box 843, Zebulon, Georgia 30295. Click here to donate through PayPal. Thanks for supporting Pike County's only free online newspaper!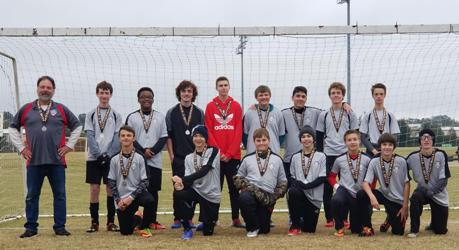 Back row: Coach Alan Frey, Reagan Anderson, Javon Barron, Joel Pitts, Jacob Truitt, Kaleb Benton, Aaron Frey, Gage Coley, Jacob Smith. Front row: Kaden Lee, Ryan Brooks, Dennis Walrath, Clayton Matthews, Henry Glover, Dylan Harless, Daniel Cuviello. Not pictured Mason Bryant. Photo courtesy of U16 Storm.
U16 Storm Soccer Team Participates and Wins Second Place In Georgia Recreational End of Season Tournament
By Guest Columnist Kim Frey
LOVEJOY - The Pike County U16 Storm Soccer team participated in the Georgia Recreational End of Season Tournament that took place in Lovejoy, Georgia the weekend of November 11-12th.
There were teams from all over North and Central Georgia and the competition was fierce. The boys had to play in freezing cold temperatures and rose to the occasion.
In the first game the Storm faced a team from North Georgia that only lost one game all year. We lost to them 7 - 0. The second team we faced was from Fayetteville Georgia, our Storm beat them 3 - 0. The third game was Sunday morning and we faced another team from North Georgia and we ended in a 2 - 2 tie. We were able to advance to the Championship round because we had a shut out when the other team we tied with did not.
The team was so excited and Coach Alan Frey was so proud of them. Coach Frey said, "I knew I had a special team this season, and I knew they would do well but they exceeded my expectations both in their determination and their sportsmanship they portrayed on the field."
During the Championship game, our team scored the only goal allowed by our opponent the entire tournament. We ended up in Second Place in a hard fought battle.
During the award ceremony our team received medals, but best of all, the opposing coach stated that our team had shown the best sportsmanship of any team they faced all year and that we represented Pike County well.